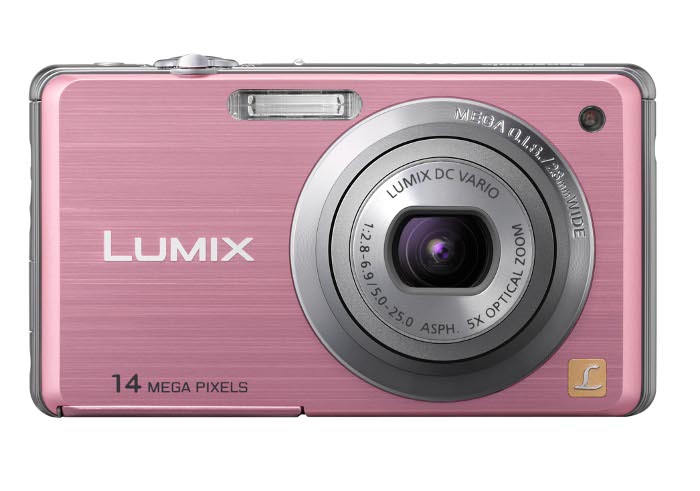 Panasonic is pleased to introduce the new 14.1-megapixel DMC-FS11 and 12.1-megapixel DMC-FS10 cameras of newly developed 28mm wide angle lens with 5x optical zoom (equivalent to 28mm to 140mm on a 35mm camera) with 2.7-inch Intelligent LCD as a member of Lumix new FS series. The FS series, a sister line of the popular FX series, pursues easy and simple operation with its high-grade profile for users at every stage to enjoy taking beautiful pictures. All cameras from the new FS series are equipped with 28mm wide angle lenses with 8x or 5x optical zoom. The 5x optical zoom models differ in the recording resolution, 14.1-megapixel FS11 and 12.1-megapixel FS10.
Panasonic's world-acclaimed iA (intelligent auto) mode makes it easy for anyone to take beautiful photos by various shooting-assist functions. It comprehends MEGA O.I.S.(Optical Image Stabilizer) for hand-shake, Intelligent ISO Control for subject movement, Face detection and Intelligent Scene Selector. The dedicated iA button on the top of the camera lets you enter the iA mode directly. Once you enter iA mode, these multi-capable functions happen automatically so you can shoot without the bother of adjusting settings every time conditions change. You can enjoy easy, trouble-free shooting in any situation and get the satisfaction that comes with capturing clear, beautiful images.
What is newly featured in the FS11/FS10 is HD(high definition) movie recording capability in 720p motion jpeg. Not only viewing the movie on PC but also burning the movie and photos made into a slideshow of MPEG2 file on a DVD disc to enjoy watching it on TV via the bundled software PHOTOfunSTUDIO 5.0.
The DMC-FS11/FS10 incorporates a 2.7-inch 230,000-dot LCD with Intelligent LCD function, which detects the lighting condition and controls the brightness level of the LCD in 11 fine steps, to offer a display with the most appropriate clarity in any situation. Clear menus are easy to navigate, even for seniors, thanks to the display size option. Other various upgrades make FS11/FS10 enhance fun of taking pictures.
Dressed in the brushed metal-finished panel, the slim and sleek FS11/FS10 offers an enjoyment of taking great snapshots casually with committed ease of operation even for beginners. The DMC-FS11 will be available in silver, black red, blue and pink while FS10 in silver, black, blue, pink and orange.
*Availability of models and colors may vary depending on the sales area.

1. 28mm Wide Angle Powerful 5x Optical Zoom (28-140mm*) LUMIX DC Lens, 14.1-megapixel(FS11)/12.1-megapixel(FS10) High Resolution CCD and High Performance Venus Engine IV
The 14.1-megapixel DMC-FS11 and 12.1-megapixel DMC-FS10 package a 28mm wide-angle* high quality LUMIX lens with powerful 5x optical zoom into a slim, compact body. Comprising 6 elements in 5 groups, including 3 aspherical lenses with 5 aspherical surfaces, this advanced lens unit realizes the outstandingly slim and compact body yet achieving exceptional optical performance. Further, in 3-megapixel resolution mode, the Extra Optical Zoom function provides additional magnification, extending the zoom power to 10.5x (294mm*) for FS11/9.8x(274mm*) for FS10 by taking advantage of the high resolution CCD.
The image-processing LSI, Venus Engine IV, features advanced signal processing technology for rendering high quality images. Featured in the DMC- FS11/FS10, the multi-task image-processing engine Venus Engine IV supports a super-fast response time. The shutter release time lag is as short as approx. 0.006(FS11) / 0.007(FS10) second and the camera's quick response makes it easier to capture sudden, spur-of-the-moment photo opportunities together with the sonic speed AF(auto focus) that lets you lock on the subject minimum 0.35 second** and the short startup time of approx. 1.01 second.
The Venus Engine IV also supports a High Sensitivity mode that lets the DMC-FS11/FS10 record at a setting of up to ISO 6400, sensitive enough to capture subjects in near-total darkness without using a flash.***
Despite its outstanding performance, the high performance engine is also superior in its energy efficiency to feature a long battery life up to 310 shots (CIPA) per a single charge.

* 35mm camera equivalent.
**At wide-end, using 1-area AF.
*** In 3-megapixel(4:3), 2.5-megapixel(3:2), 2-megapixel(16:9) recording

2. The iA(Intelligent Auto) mode for making every photographer to be a good photographer
Panasonic incorporated the Intelligent Auto mode in pursuit of the ultimate ease of operation and the reduction of misshots. This mode is of course comes with the new FS33/FS30. The MEGA O.I.S. suppress hand-shake and the Intelligent ISO control prevents moving subject to be blurred by optimizing the shutter speed and ISO setting, to render sharp, clear images whatever the shooting situation is. Human faces are captured in focus and appropriate exposure with the Face Detection. Unwanted red-eyes are digitally corrected and backlight compensation automatically activates if they happens. Intelligent Scene Selector, which automatically selects whichever of 6 scene modes -- Macro, Portrait, Scenery, Night Portrait, Night Scenery and newly added Sunset - that best suits the shooting situation. The Quick AF system allows the camera to keep focus on the subject while the camera is in recording mode even before without pressing a shutter button halfway, to get best result out of a shutter chance because the focus is always near the subject and the AF time is minimized.
The user can activate all of these useful, convenient shooting-assist functions by simply pressing an dedicated iA button on the top of the camera. All these make the FS11/FS10 the ultimate, super-versatile automatic camera for capturing clear, beautiful, mistake-free photos with ease.

3. Exciting Options to Expand the Fun of Photography in the High-Definition Era
All Lumix cameras can take 16:9 HD (high-definition) quality photos that perfectly fit a wide-screen HDTV for full-screen viewing. You can enjoy slideshow of photos taken with the camera in stunning HD quality by inserting an SDHD/SD memory card in to the SDHC/SD card slot with the VIErA HDTV (VIErA Image Viewer).
The new DMC-FS11/FS10 even records dynamic HD movie in 1280 x 720p at a smooth 30 fps, in addition to WVGA (848 x 480) and normal VGA (640 x 480). It is also possible not only to watch the movie on PC but also to upload it on YouTube with the included software PHOTOfunSTUDIO ver.5.0.

・Use a card with SD Speed Class* with "Class 6" or higher when recording motion pictures.
*SD speed class is the speed standard regarding continuous writing.
・For Europe, motion images can be recorded continuously for up to 15 minutes.

4. Advanced 2.7-inch Large 230,000-dot Intelligent LCD for Easy Shooting and Playback
The DMC-FS11/FS10 incorporates an easy-to-see, large, 2.7-inch 230,000-dot Intelligent LCD for comfortable viewing while both monitoring shots and playing back the results. The Intelligent LCD function detects the light condition and automatically boosts the LCD backlighting by Max. 40% when shooting outdoors in bright sunshine, and adjusts the frame rate when shooting in low-lit situations in addition to using the pixel mixed readout method to secure clarity in such situations. Detecting the lighting condition precisely and automatically controlling the brightness with a total of 11 fine steps, this function gives the display the most appropriate clarity in any situation without using extra energy. The High-angle mode makes the LCD screen extremely easy to view when the camera is held high, such as when shooting over a crowd.

5. Exciting Options to Expand the Fun of Photography
The new DMC-FS11/FS10 feature a variety of functionalities to expand fun and convenience for users at every stage to enjoy taking beautiful pictures.
A rich variety of scene modes make it easy to get beautiful photos in a range of photographic situations. Baby, Pet and Sports mode take advantage of the Intelligent ISO Control as previously described, to let you get great results even if the subjects have unexpected motion. Furthermore, you can record the name and birthday of your children or pet and embed the information of the name and at which age in year and month the photo was taken on the photo, and choose to print either or both of them on the photo. Photo Frame mode lets the user put attractive borders around the photo. When printed, the photos look like postcards in picture frames.
The functions and settings used most often, such as O.I.S., consecutive shooting, auto focus point, white balance adjustment, ISO level, image size and LCD mode are quickly and easily accessed via the Quick Setting function. There's no need to open menus to adjust them.
The user can select from among several pretty icons for the camera to use for indicating when the subject is in focus. With the My Scene setting, the user can assign up to specific Scene modes to that setting, and switch instantly to the mode when desired. Menus look clearer with the Display Size option, which makes it easier to navigate, even for seniors.
Using the Macro Zoom function, the user can pull subjects even closer than the closest point possible with the wide-angle setting by using 3x digital zoom, and capture dramatic close-ups.
In addition to the conventional SD/SDHC memory card, the DMC-FS11/FS10 accepts next-generation SD format SDXC (SD eXtended Capacity), that features high potential in both capacity and data transfer speed. The DMC-FS11/FS10 is compatible with Windows 7.