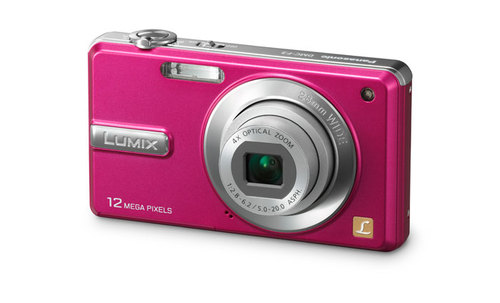 Panasonic is pleased to introduce the new entry level 4x optical zoom digital still cameras 12.1-megapixel DMC-F3 and 10.1-megapixel DMC-F2. Both models feature Auto Scene Mode to take pictures beautifully and easily, with which the camera activates three shooting-assist functions; Intelligent ISO Control, Face Detection and Intelligent Scene Selector. The Intelligent ISO control prevents moving subject to be blurred by optimizing the shutter speed and ISO setting, to render sharp, clear images. Human faces are captured in focus and appropriate exposure with the Face Detection. Unwanted red-eyes are digitally corrected (F3 only) and backlight compensation automatically activates if they happens. Intelligent Scene Selector, which automatically selects whichever of 5 scene modes -- Macro, Portrait, Scenery, Night Portrait and Night Scenery - that best suits the shooting situation. Plus, F3 has a Digital Image Stabilizer that helps suppress hand-shake.
The 28mm wide-angle 4x optical zoom(28-112mm*) high quality LUMIX DC VARIO lens is equipped with F3 and the same quality of 33mm 4x optical zoom(33-132mm*) lens is with F2. The 12.1-megapixel(F3) and 10.1-megapixel(F2) high resolution, high sensitivity CCD makes it possible to record max.ISO 1600 image in full resolution and even ISO6400 image using High Sensitivity Mode**. With the Extra Optical Zoom function, the zoom power is extended to 7.8x(F3) /7.1x(F2) using the center part of the CCD.
Easy-to-see, large, 2.7-inch(F3)/2.5-inch(F2) 230,000-dot LCD is incorporated for comfortable viewing while both monitoring shots and playing back the results. The auto power LCD function for F3 detects the light condition and automatically boosts the LCD backlighting by Max. 40% when shooting outdoors in bright sunshine to secure clarity and visibility of the monitor.
The new DMC- F3 records dynamic HD movie in 1280 x 720p at a smooth 30 fps, in addition to WVGA (848 x 480) and normal VGA (640 x 480)*** ****.
Also, the DMC-F2 is superior in their energy efficiency to feature a long battery life up to 300 shots (CIPA) per a single charge.
In addition to the conventional SD/SDHC memory card, the DMC-F3 accepts next-generation SD format SDXC(SD eXtended Capacity), that features high potential in both capacity and data transfer speed. The DMC-FS3 is compatible with Windows 7.