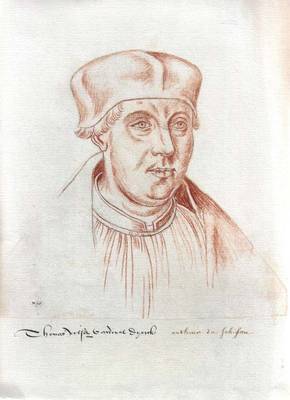 © Drawing by Jean Leboucq, King at Arms of the Toison d'Or from the Recueil d'Arras (Bibliothèque Municipale d'Arras)
Concours du 13/8/2009 au 18/9/2009 Terminé


Patrons of 'A Wolsey Artwork for Ipswich', with the support of Ipswich Borough Council, intend to commission a major work of art to commemorate Cardinal Wolsey in his birthplace.
The work is to be situated within walking distance of four parishes of Tudor Ipswich with which he had connections. These areas are now in the heart of Ipswich and link the town centre and Waterfront.
We are looking for an artist who will engage with this project, understand and have experience of working with committees and be adaptable to a changing process of procurement.

Artists should consider the following:

A work that will celebrate a major cultural British figure and his connections with Ipswich
The work should be free standing and viewable in the round
The work should be an object which viewers can stop and reflect on – the site is likely to be adjacent to a restaurant / cafe
The work will have to compete and compliment its surroundings and respond to the site and its environment which is likely to be adjacent to historic buildings
It could incorporate a story board highlighting key events, dates that relate
Thomas Wolsey"s life

The artwork should be innovative, eye catching and accessible. The artwork should be durable, vandal-proof and low maintenance.

This is not an exhaustive list and we would like artists to be imaginative and innovative in their proposals. The subject offers a range of interpretations that could be considered, the selection panel are happy to consider alternative relevant ideas that relate to Wolsey. Unusual ideas are welcomed.

No particular discipline or materials is specified, although the selected artist will be expected to have experience of creating and installing a project of comparable size and scale, an awareness of the technical issues likely to arise and experience of cost control on a project of comparable complexity.

Artists reaching Stage 2 of the selection process will be asked to provide design concepts (including models if appropriate) and project costings and must be able to provide specifications for the detailed design, and work closely with the Patrons and fabricators.

The successful artist should have a record of schemes that show sensitivity to context, and an ability to interpret and convey ideas. The artist will be expected to have a good understanding of collaborative working practices in relation to the technical aspects of the work (fabrication, installation.)


SELECTION PROCEDURE

First Stage
Invite artists to express an interest in this proposal. Those wishing to be considered should reply by a letter of application demonstrating their interest in and suitability for the commission.

This should be accompanied by a CV and up to 10 (no fewer than 4) images – as jpegs on a disc - of recent work and/or other supporting material.

First stage submission to be received by 18th September 09
If you do not hear from us within 10 days of the closing deadline you must assume you have not been shortlisted.

Second Stage
Four shortlisted artists will be selected from the expressions of interest by the Art Group on the basis of the submitted material and invited to present their ideas to the Patrons. Shortlisted artists will be notified by 5th October 09

Presentations to the Patrons" will take place the week commencing 7th December
As preparation for the presentation, artists will be asked to develop their design ideas in sufficient detail for the concept, materials and scale of the work to be represented.
The concepts should be presented with a clear cost breakdown covering all aspects of the project – fees, fabrication costs, transport, and installation on site.

A fee of £350.00 (to include all expenses including travel) is available for the second stage, and applicants can request additional information appropriate to the sites if required. (Photographs etc.)

Shortlisted candidates will be advised within 10 working days of the presentation.
The Patrons" decision will be final.

PROJECT DETAILS

Timetable
Closing date for first stage Expressions of Interest is 18th September 09
Short listed artists will be notified by 5th October at the latest
Interviews will be held in week commencing 7th December 09
Successful artist will be notified by 18th December
Appeal launched and contract agreed January 2010
Payment for designs and maquettes January 2010
Initial designs available to support appeal mid February 2010
Completion of the installation of the artwork is expected September 2010

Total Budget
Estimated target £100,000 (which will include all research, artist's fees, travel and expenses, materials, construction, transport, installation, any groundwork etc and promotional material/expenses).

The breakdown of the final budget will be agreed by the Patrons.

The Contract
The successful artist will be required to enter into a written contract with the Patrons for the development and realisation of the artwork. An outline draft of the contract will be made available to second stage applicants.
Conditions de participation

Applications to be sent to:
Felice Satalino (Personal Assistant to Chief Executive, Ipswich Borough Council)
Ipswich Borough Council Grafton House, 15-17 Russell Road, Ipswich, IP1 2DE.
Telephone 01473 432009, email: felice.satalino@ipswich.gov.uk

If you have any questions, please contact

John Blatchly, 11 Burlington Road, Ipswich, Suffolk, IP1 2HS. Telephone: (01473) 281665
email: john@blatchly.co.uk
or
Rebecca Weaver, Arts Development Officer, Ipswich Borough Council
The Town Hall Galleries, Cornhill, Ipswich, IP1 1DH. Telephone: (01473) 432862
email: rebecca.weaver@ipswich.gov.uk