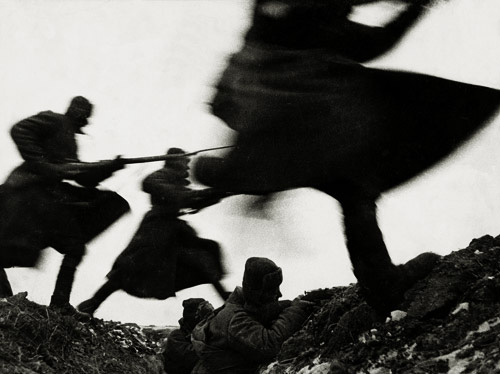 Dimitri Baltermants, "Attack", 1941
Ventes du 24/11/2008 au 2/12/2008 Terminé

Bassenge Photography Auctions Rankestr. 24 10789 Berlin Allemagne


Soviet War Photography 1941-1945

Bassenge Photography Auctions is holding two sales on Dec. 3 2008 in Berlin offering over 500 photographs and circa 140 photography book lots. The first sale consists of a private collection of Soviet War Photography 1941-1945 and includes rare vintage, often signed and annotated images as well as prints made in the 1960s by Dimitri Baltermants, Jewgeni Chaldej, Boris Kudojarow, Galina Sanko, Georgi Selma, Ivan Shagin, Victor Tjomin, Michail Trachman and others.There are many large-format prints and many were acquired directly from the photographers.

19th century

The regular photography sale offers a wide selection of quality 19th century material. Especially of note is a fine selection of Berlin albumen views from the 1850s by Leopold Ahrendts showing the main sites of 19th century Berlin. Several large-format Alinari Italian views, both albumen and salt prints, from the 1850s are also being offered. Other 19th century items include: selected ethnographic studies of natives of Papua New Guinea by and attributed to Woodbury & Page as well as early images of New Orleans from the 1860s by Theodore Lilienthal (2500 - 1800 Euro) showing steamboats in the port as well as architecture of the city, an early hand-colored salt print by Roger Fenton from 1854 showing participants of the Crimean War (3500 Euro), several albumen prints by William Henry Jackson (each circa 1,000 Euro), several groups of hand-colored Japan albumen prints (between 500 - 2,000 Euro), several very strong salt prints (some lightly albumenized) by James Robertson circa 1854 of mosques and people in Constantinople. Other 19th century photographers include: Joseph Albert, Auguste Belloc, Samuel Bourne, Giacomo Caneva, Maxime Du Camp, Peter Henry Emerson, Wilhelm von Gloeden, Dimitrios Konstantinou, Hermann Krone, Eadweard Muybridge, Carlo Naya, Guglielmo Plüschow, August Sachtler, Anton Schranz, J. Pascal Sebah Giorgio Sommer and Wiele & Klein.

20th century

Highlights of the 20th century section are several Ilse Bing prints including:"Champ de Mars, vu de la tour Eiffel" (each 4,000 Euro), several vintage prints by Brassai from the 1930s Secret Paris series (each circa 5,000 - 4,000 Euro), two vintage prints by Peter Hujar: "Joe L.", 1978 (6,000 Euro) and "Paul's Leg", 1979 (9,000 Euro) which is one of the photographer's most iconic images, a 1950s print of Dorothea Lange`s iconic "General Strike" (10,000 Euro) as well as "Homeless Family" (7,000 Euro), a unique gelatin silver print by Dieter Appelt. worked over with ink and paint (4,000 Euro).

Other photographers include: Richard Avedon, Eve Arnold, Wilfried Bauer, Sibylle Bergemann, Bill Brandt, Josef Breitenbach, Elliott Erwitt, Louis Faurer, Andreas Feininger, Franz Fiedler, Larry Fink, Leonard Freed, Horst P. Horst, George Hurrell, Graciela Iturbide, Peter Keetman, André Kertész, Herbert List, George Platt Lynes, Man Ray, Leonard Misonne, Inge Morath, Albert Renger-Patzsch, Leni Riefenstahl, August Sander,Toni Schneiders, Stephen Shore, Louis Stettner, Alex Stöcker, Sasha Stone, Wolf Strache, Antanus Sutkus, Karin Székessy, Herbert Tobias, Bruce Weber and Weegee, Among the contemporary photographers are: Dieter Appelt, Bernd and Hilla Becher, Flor Garduño, Nan Goldin, Candida Höfer, Daniel Kane, Heinrich Riebesehl, Thomas Ruff, Heidi Schneekloth, Wim Wenders and Ulrich Wüst, Harf Zimmermann. A larger collection of photography books is also being offered mostly consisting of grouped lots with various works, among them such famous books as William Eggleston's Guide by John Szarkowski, a signed copy of Larry Clark's "Tulsa" and Franz Roh and Jan Tschichold's Foto auge, oeil et photo photo-eye as well as an attractive group of books on Josef Sudek.