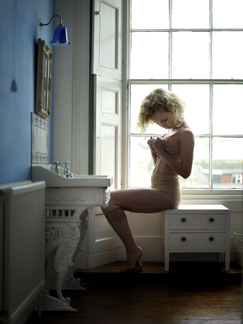 Ventes du 08/02/2008 au 05/04/2008 Terminé
The Photographers' Gallery 5 and 8 Great Newport Street WC2H7HY London Royaume-Uni Print Sales presents the most recent body of work by Edith Maybin. All prints are available to purchase, please ask for further information.

Prints available as:

26 x 33" signed c-type, from an edition of 10, from £1000
41 x 50" signed c-type, from an edition of 6, from £1750
All prices exclusive of vat and framing.


Edith Maybin's photography investigates the relationship between mother and daughter. Maybin takes her portraits in a 'home' environment where the two initiate secret stories that they then replay until the camera captures the mother and daughter separately in the same position. This allows for Maybin to digitally reassemble the images with the resulting photograph resolving the dichotomy of the relationship. In closing the gap between mother and daughter the work subversively provides room for fantasy, identity reversal, and reveried escape. Maybin's memories of her mother dressing are the inspiration for an investigation of female rituals and sentimental inheritance. Inspired by Lady Clementina Hawarden's photographic tableaux of her daughters, Maybin and daughter paradoxically elude the gaze by way of imaginative abstraction into a place, like Vermeer's women, intangible.

Edith Maybin (b. 1969) graduated in 2006 with an MA from the Swansea Institute and went on to win the title of Free Range 06 Photographer of the Year. Maybin has also been selected for the AXA Art Photographic Portrait Commission with the National Museum of Wales. Maybin's work is now part of the permanent collections of The National Museum Wales and The National Portrait Gallery, London.