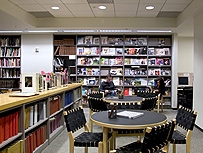 Ventes du 26/01/2008 au 27/01/2008 Terminé

ICP (International Center of Photography) 1133 Avenue of the Americas at 43rd Street New York États-Unis


The Library of the International Center of Photography has completed another successful year thanks to our many friends and supporters. In 2007, the Library added much needed shelf space for reference books and periodicals (thanks to the generosity of Stephanie & Fred Shuman), and made great strides in our cataloguing process – there are now 14,000 books searchable for researchers online.
We kick off the new year with the Third Annual Benefit Book Sale with all proceeds benefitting the Library. Choose from an extraordinary selection of donated books, periodicals, duplicate materials, and items beyond the Library's scope.
If you have any questions, please contact me at library@icp.org or (212) 857-0070. I look forward to seeing you at the Benefit Book Sale!
—Deirdre Donohue, Librarian
Saturday | January 26 | 12:00–5:00 pm
Sunday | January 27 | 12:00–5:00 pm
1114 Avenue of the Americas at 43rd Street