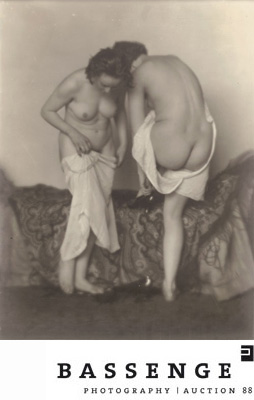 Ventes du 06/12/2006 au 06/12/2006 Terminé

Galerie Gerda Bassenge Erdener Staße 5a, Grunewald, Germany 14193 Berlin


Previewing Nov. 27th - Dec. 5th 2006, 10am - 6pm Rankestr. 24 . D-10789 Berlin Online Catalogue: www.bassenge.com For further infromation please contact Jennifer Augustyniak at: Bassenge Photography Auctions is offering 382 lots in their upcoming photography auction, Dec. 6, 2006. Rare and fine vintage prints by renowned photographers are among the wide selection being auctioned. Landscapes by Bourne & Shepherd, Francis Frith, Scowen, G. Sommer, A. Kotzsch, A.Adams, J. Breitenbach, G. Crewdson, W. Eggleston, F. Fontana, P. Keetman, A. Renger-Patzsch, Rodchenko as well as by lesser known photographers such as J. Burke und William Barker, F.J. Fridrich, R. Bothner, U. Brodmann and others. Intriguing portraits include an icon of photography "La môme Bijou", as a fine signed later print by Brassai. There are also portraits of Joseph Beuys (Zoa), Richard Strauss (Binder), Max Ernst (J. Breitenbach), Greta Garbo (C.S. Bull), Alfred Döblin (J. Schmidt), Werner Fink (F. Eschen),
Cindy Sherman
(A. Frajndlich), Orson Welles (E. Haas), Anna May Wong (G. Hurrell), Mary Wigman and Albert Einstein (Lotte Jacobi), Ernest Hemingway and Alberto Moravia, (Y. Karsh), Max Klinger and Franz Marc (unknown photographers.), Jean Cocteau (H.Martinie), Robert Rauschenberg (H. Namuth), Gerhard Richter (D. Schwerdtle), Marilyn Monroe (B. Stern), Hans Bellmer (K. Szekessy). There is also a wide range of attractive city and architecture views by Baldus, Hammerschmidt, Krone, Mieusement, Mylius, F.A. Schwarz, Atget, Mantz etc. Object, experimental and "straight" photography by W. Evans, Finsler, R. Häusser, C. Höfer, G.R. Hoxie, W. Kessels, F. Lazi, K. Bringmann, Hajek-Halke, R. Horn, G. Klucis,
Les Krims
, B. Halpern Cutler, L. Jacobi, F. Bruguiere and J. Dreville. Lovers of travel, fashion and erotic photography will also find some real treasures, the highlight being Germaine Krull's portfolio "Akte" from 1924, as well as very interesting ethnographic material from mid-19th century.