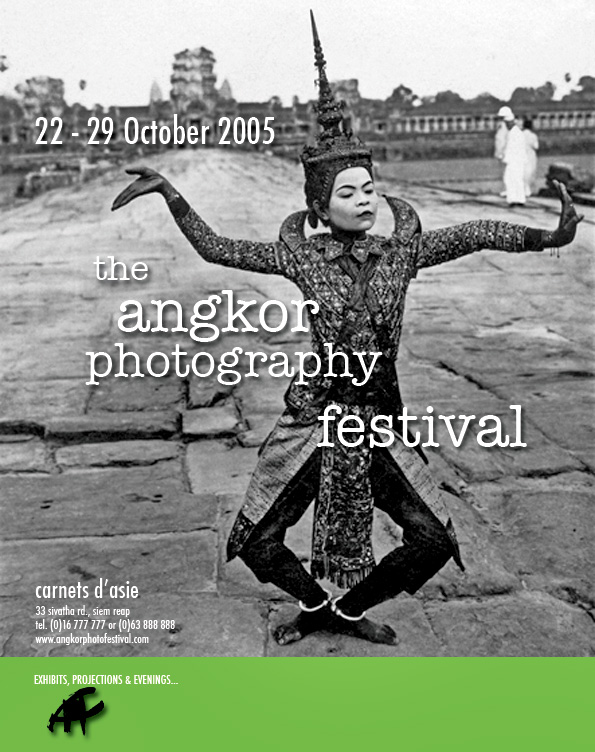 Festivals du 22/11/2006 au 29/11/2006 Terminé

Angkor Photography Festival


PHOTOGRAPHY FOR CHANGE Once a year, the temples of Angkor become a hub for photographers with an interest in Asia. The Angkor Photography Festival brings together renowned and passionate photographers of diverse cultures in the spirit of creativity and sharing. It showcases print exhibits and outdoor projections by famous artists and photo-journalists, but differentiates itself from other festivals with its strong educational and humanitarian goals. By offering free workshops for young Asian photographers and developing outreach projects for disenfranchised Cambodian youth, participants contribute their art and their time, demonstrating that photography can change lives. The Angkor Photography Festival will be held in Siem Reap, Cambodia, from November 25th to December 1st.
Philip Jones Griffiths
will be our guest of honor. Inspiration: The VII workshops The initial concept for the festival took shape in February 2005, during workshops organized in Siem Reap by Gary Knight, founder of the acclaimed photo agency VII, with Antonin Kratochvil,
James Nachtwey
, and Christophe Loviny. The impetus generated by the students and a number of visiting artists and journalists, who all shared a passion for Asia and photography, produced the desire to hold a larger event open to the public. Sensing that this new project could be culturally and socially significant for the region, Gary Knight, Christophe Loviny and gallerist Jean-Yves Navel organized the inaugural Angkor Photography Festival in October 2005. The Spirit of Sharing: Free Workshops One of the first plans for The Angkor Photography Festival is to expand on the professional model of the VII workshops and sponsor free workshops for young, Asian photographers. Through this program, the festival aims to develop the skills of emerging local and regional photographers so they can return to their countries and better document their own societies and cultures. We are in the process of selecting twenty participants through online portfolio reviews. During the eight day workshop, they will work hard on themes of their own choice and have their pictures edited and critiqued on a daily basis by their tutors, Antoine d'Agata (Magnum),
Eric Bouvet
and Patrick de Noirmont (Onasia). The resulting photo-essays will be projected publicly alongside those made by the participants of the VII workshop, and will be a highlight of the festival. Outreach: Street Children at the Heart of the Festival The Angkor Photography Festival organizes an outreach program for Siem Reap's street children. In October 2005, two workshops were conducted for them: one on photography and another on self-expression through a combination of dance and photography. Antoine d'Agata introduced the children to photography as a means of articulating their perception of the world. The children, the majority of whose parents are handicapped from landmine blasts or afflicted with AIDS, created a photographic mosaic with pictures of their lives. Indian choreographer Sangeeta Isvaran and Filipina art therapist Paula Holme organized the related workshop on self-expression. The children worked on the link between photography and memory through dance. By associating images, music and movement, they produced a vibrant multimedia show that was presented on the closing day of the festival. The experience will be continued this year with American photographer Stephen Shames and Sangeeta Isvaran. More outreach projects will be launched similarly with disabled youth and drug-addicts. Building For The Future: Ongoing Educational Programs The festival aims to be an enduring presence through its ongoing educational programs. Having engaged with the street children, we resolved to provide them with the tools necessary to break the cycle of poverty. An educational program has been established in collaboration with a local NGO, The Life and Hope Association. Today, thirty-five children benefit from a curriculum of daily Khmer, English and math classes as well as food and health assistance. The photography and dance classes continue. With the support of Friends Of Khmer Culture Foundation Inc., a book will be published in 2007 with the children's photographic work. The children's original photo-dance performance has been transformed into a successful show held regularly at the Amansara Resort in Siem Reap. Through our desire to help Cambodians help themselves, the older children of the program are being trained to take over responsibilities. Reth, 16 and once a beggar, is now a team leader in charge of rehearsals. The Festival Online: A Thriving Community The festival is not only an annual event in the heart of Southeast Asia. It is also a permanent community that is thriving exponentially online via the photo sharing website, Flickr. At www.flickr.com/photos/angkorphotographyfestival/ thousands of community members view and discuss the works showcased in the festival's exhibits, projections and workshops, all freely available online. They share a common passion in photography and are upholding the festival's spirit of creativity and sharing. An international contest for non-professional photographers is currently being held at www.flickr.com/groups/angkorphotofestival/. Winners' work will be shown during one of the evening projections in Siem Reap. Any questions can be directed to Stuart Isett at: angkorphotofestival@yahoo.com Thanks for your interest. Stuart Isett www.flickr.com/photos/stuartisett/