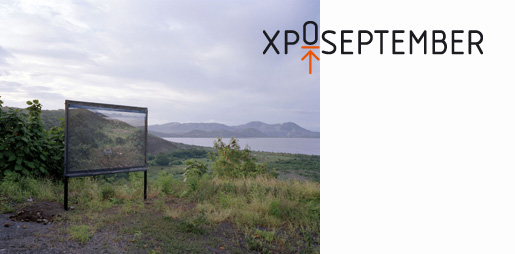 Festivals du 23/09/2006 au 22/10/2006 Terminé

Xposeptember - Stockholm fotofestival www.xposeptember.se Box 222 33 S-104 22 Stockholm Sweden Sara Nordström, coordinator: +46 (0)8 6406069 info@xposeptember.se 50 exhibitions and 25 seminars


On September the 23rd the fifth edition of Xposeptember - Stockholm Photo Festival will open. 49 actors within the photographic field; institutions and museums, galleries, colleges and artist driven projects participate with a total of 50 exhibitions and 25 seminars, workshops, artist talks and other programmes. The Xposeptember magazine containing editorial text from some 20 writers, among them Marius Babias, Marion von Osten, Trond Lundemo, Charlotte Cotton and Niclas Östlind will be published in connection to the opening. The magazine is published in both Swedish and English and will be available at all venues. The theme for this year's festival is 'Europe' and the festival will open with a two-day-long seminar, which gathers eight international and Swedish speakers. The seminar, taking place at ABF in Stockholm, will focus on questions such as identity, boarders and which roles the visual culture and the photographic image play in the construction of a European identity. Opening seminar 'Europe and the construction of a European identity': 23-24 September Stefan Nowotny (Austria) "The Obsession with Identities: European Immunitarianism, Migration and the Question of Citizenship." Peo Hansen (Sweden) "Turkey as 'the End of Europe' and Algeria as a Former Member of the EU: European Integration, European Identity and European Colonialism - Present and Past." Dejan Antonijevic (Sweden) "Europe - My private experience." Marion von Osten (Germany) "The research and cultural production of "TRANSIT MIGRATION", focusing on the "MigMap" project - A Virtual Cartography of European Migration Policies." Mikela Lundahl (Sweden) "Europe's colonial shadow. On the necessity of integrating the darker sides of European history, as anti-Semitism and colonialism, with the idea of humanism and modernity in the construction of a European identity."
Lisl Ponger
(Austria) "Hidden Histories - remapping Mozart. A presentation of a project focusing on hidden positions, facts and structures that normally remain invisible and buried during national anniversary celebrations." John Sundholm (Sweden) "Hotel Mother Tongue or the Non-place of Identity. The problem of cultural identity explored through the multimodal medium of the moving image (a video installation by the Finnish artist Pekka Niskanen)." Marjetica Potrc (Slovenia) "Lost Highway Expedition - exploring the future of Europe from the perspective of the Western Balkan." Moderators: Moa Matthis (Sweden) and Stefan Jonsson (Sweden).