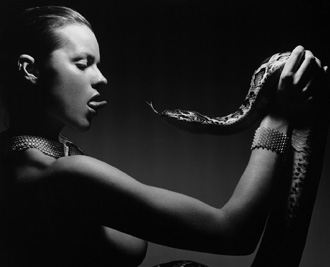 Ventes du 30/09/2006 au 30/09/2006 Terminé

Kunsthaus Lempertz Neumarkt 3 . D-50667 Cologne E-mail: photo@lempertz.com Website: www.lempertz.com Phone.: +49 221 925729-28 Fax: +49 221 925729-6


Auction 893 CONTEMPORARY PHOTOGRAPHY Auction Berlin Saturday, September 30 2006, 11 am Parallel to the Art Forum Berlin (September 30 to October 4, 2006), Lempertz will hold an auction with selected works of contemporary photography in their Berlin branch on 30 September 2006. Some of the highlights among the 43 lots are works by Bernd and Hilla Becher, Jürgen Klauke, Katharina Sieverding,
Helmut Newton
,
Lewis Baltz
, and
Loretta Lux
. Beginning with 1970's and 1980's creations by artists like Jürgen Klauke, Bernd and Hilla Becher, and Gerd Bonfert, followed by works of Becher students
Thomas Ruff
,
Thomas Struth
, Axel Hütte, Boris Becker, and Jörg Sasse, the auction will continue with photos by young modern artists such as Daniel & Geo Fuchs, Michael Wesely,
Götz Diergarten
, and
Loretta Lux
.
Helmut Newton
is represented by a multitude of his most well-known 'Nudes and Celebrities', estimated between 12,000 to 18,000 Euro (lots 19-28). In addition, the folio 'Cyberwoman I-VIII' with seven photos (lot 18, 18,000 to 20,000 Euro), and a lot of five nudes for 10,000 Euro (lot 17) are being offered. The most expensive work is Jürgen Klauke's 'Fremdsuggestion' (part of 'Sonntagsneurosen'): a large-scale, three-part photographic work from 1990/92 for 30,000 Euro (lot 12). The American
Lewis Baltz
is represented by a colour photograph of an Air France computer control center for 15,000 Euro (lot 39). A self-portrait by Dresden's
Loretta Lux
, presently in high demand, is offered at the same limit (lot 36). Photographs that not only show the image of women in Islam, have made Shirin Nesbat well-known; she is represented here with three works estimated up to 9,000 Euro (lots 14 ff.). Rankin's 'Eva' graces the catalogue cover and plays her game with the snake; 12,000 Euro is the estimate for this lot 43. A four-part photographic work by Katharina Sieverding from 1992, 'Deutschland wird deutscher', is offered at 18,000 Euro (lot 13). The portrait 'The Käch Family 2' by
Thomas Struth
has an estimate of 10,000 Euro (lot 11). A dandelion field seen from above and 160x200 cms in size, by Boris Becker, is valued at 10,000-12,000 Euro. Axel Mütte's black and white work 'Malmantile' from 1988/89, is estimated at 18,000 Euro (lot 10). Bernd and Hilla Becher's well-known classic photos from 1978: water storage tanks, are appraised at 10,000 Euro (lot 1). Michael Wesely, who documented the reconstruction of New York's MOMA in a long-term study, shows a still-life of tulips (5,000) and the 'Stromschnellen des Maipures am Orinoco', reminiscent of Gerhard Richter, for 6,000 Euro (lots 34/35). Auction 893 Berlin: Saturday, September 30 2006, 11 am Poststrae 22, Nikolaiviertel Preview Cologne: September 19-22 10 am to 1 pm and 2 pm to 5:30 pm Preview Berlin: September 25-29 10 am to 5:30 pm Photography Rankin. And God created Eva, 2002/2004. Digital ink jet print on giclée paper. Unique print. Lot 43