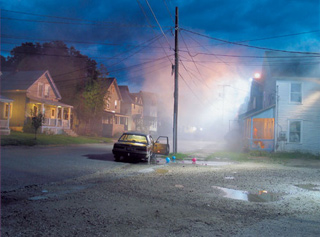 Ventes du 31/05/2006 au 31/05/2006 Terminé

Galerie Gerda Bassenge Erdener Staße 5a, Grunewald, Germany 14193 Berlin


Highlights of Bassenge Photography Auction 87, May 31, 2006 3pm The Spring photography auction at Bassenge is offering a wide selection of almost 400 prints ranging from the earliest photographers such as William Henry Fox Talbot to cutting edge contemporary photographers such as Gregory Crewdson. Highlights of the 19th century are three talbotypes: "The Ladder" from the Pencil of Nature by William Henry Fox Talbot, most probably varnished by the photographer himself, "Officer on board HMS Superb" by Nicolaas Henneman and "A View of the Island of Malta" by Richard Calvert Jones. Of special interest is an album comprising 150 albumen views of Rome by James and Domenico Anderson (1,500 Euro). Ethnographic and travel photography is again well-represented in several lots with rare fine prints showing people of Bhutan circa 1870 (between 500-600 Euro) as well as botanical images from Ceylon and India. A fine album with views and people of Japan which includes works by Felice Beato, Kusakabe Kimbei and Raimund Stillfried von Rathenitz is being offered for 2500 Euro. A high-quality circa half-plate daguerreotype, most probably American, showing four women in fine costume and ornate hairstyles is estimated at 3,000 Euro. The famous book by Duchenne de Boulogne "Mechanisme de la physiognomie humaine" from 1862 with 21 mounted photographs depicting de Boulogne's experiments with electricity and human physiognomy is also being offered (8,000 Euro). Four views by Wilhelm Hammerschmidt of Egypt and its people 1860s are estimated between 300-500 Euro. Other important 19th century photographers include: Fratelli Alinari, Edouard Baldus, Felice Beato, Samuel Bourne and Charles Shepherd, Adolphe Braun, Roger Fenton, Wilhelm von Gloeden, Andreas Groll, Kusakabe Kimbei, Etienne-Jules Marey, Charles Marville, James Robertson, Charles Scowen, W. L. H. Skeen, Vittorio Stella, Giorgio Sommer. The 20th century and contemporary section includes Eugene Atget's "rue de Lille" (1,200 Euro). A 1909 vintage print by Lewis W. Hine shows a group of children in front of a canning factory in Baltimore and is estimated at 1,200 Euro. Brassaï's vintage print of "Jambes" from 1937 is estimated at 2,500 Euro. Among four beautiful prints by Josef Breitenbach are two artist's portraits, one of Maillol (1,500 Euro) and one of James Joyce (2,000 Euro) as well as a tree study (1,500 Euro) and a reclining female nude from 1963 (3,500 Euro).
Henri Cartier-Bresson
is represented with three moderately priced prints among them a beautiful fair scene in France, 1950, for 1,200 Euro. A rare early vintage print by
Leni Riefenstahl
from 1933 shows a dynamic view of a sports stadium with the spectators under umbrellas (2,000 Euro), an unusual example of her early work before the 1936 Olympic games.
Robert Doisneau
's vintage print "rue Guerin-Boisseau" shows a prostitue waiting for her next customer (4,000 Euro). There are two attractive prints by Andreas Feininger showing New York City scenes "9th Avenue El" and "Brooklyn Bridge" (each estimated at 5,000 Euro). Another Magnum photographer represented is Inge Morath with three Spanish scenes taken during the midday heat in Toledo (each 800 Euro). A vintage print of "The Brown Sisters" 1978 by Nicholas Nixon is estimated at 2,500 Euro. The Bechers' typology of 16 blast furnaces is being offered as a fine collotype for 750 Euro. A double portrait of
Andy Warhol
and Joseph Beuys from an edition of 50 is estimated at 2,000 Euro. "Production Still (Clover Street #2)" is a recent C-print by Gregory Crewdson and is estimated at 3,000 Euro. Candida Höfer's brightly colored C-print of the cafeteria of the SPIEGEL office in Hamburg from an edition of 100 (estimate 2,500 Euro) brings 1970s decor to mind. Admirers of pictorial photography also can find several prints such as L. Misonne's oil-pigment print of a country scene in Holland with very dramatic cloud formations (2,000 Euro) or Lehnert and Landrock's desert panoramas estimated at 900 ? each. More experimental photography is offered with prints by Maurice Tabard (1,500 -2,000 Euro) or Jaroslav Rössler whose untitled vintage print from 1931 shows multiple exposures of a woman (5,000 Euro). Other photographers include:
Cecil Beaton
, Robert and
Cornell Capa
, Jewgeni Chaldej, Anton Corbijn, Frantisek Drtikol, Alfred Eisenstaedt, Hugo Erfurth, Larry Fink, J. Foncuberta, Leonard Freed, R. Gibson, F. C. Gundlach, Robert Häusser, Raoul Hausmann, Heinrich Heidersberger, Peter Keetman,
Horst P. Horst
, Fritz Henle, Edmund Kesting, Rudolf Koppitz, Adolf and Franz Lazi, Digne Meller-Marcovic, Albert Renger-Patzsch, Sasha Stone,
Jan Saudek
, Gundula Schulze Eldowy, Edward Steichen,
Louis Stettner
, Sasha Stone, Paul Strand,
Josef Sudek
, Maurice Tabard, Herbert Tobias, Andre Villers, Weegee, Brett Weston, Paul Woolf and George S. Zimbel.