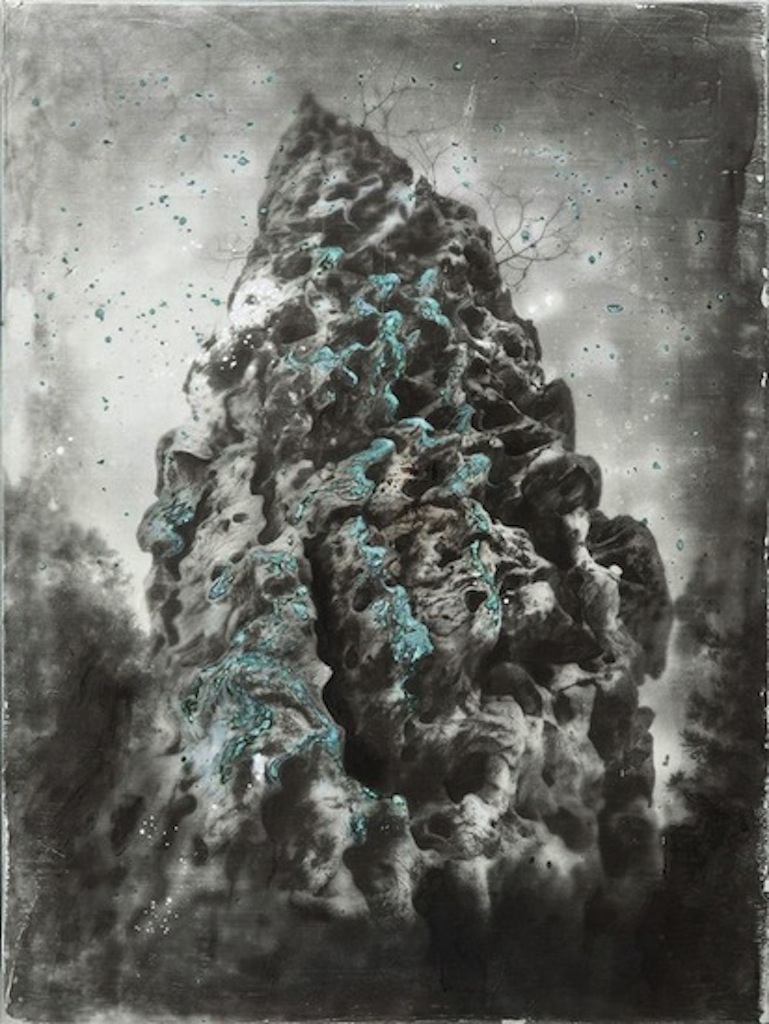 Green Mould 2012 © Shao Wenhuan
Festivals du 23/11/2013 au 31/12/2013 Terminé

Lianzhou Foto Festival Lianzhou Chine


Farewell to experience
text by Duan yuting
i have always been against making art for the sake of making art; and photographing for the sake of photographing. under the global context of contemporary art and facing the reality of china, i cannot help but worrying about what the future holds for photography as an art form, especially as a curator for a festival in a small town like lianzhou. led by art museums, biennales and festivals, the current collective group of art organizations has been criticized repeatedly for the pervasive commercialization that has penetrated every corner of the system. at the same time, burdened by the enormous weight of art history, artists who wish to have their works exhibited in museums (and other non-profit art organizations) would rarely give up the standards that have been passed down through the generations.
On one hand, photographers lament about how they should go about with their artistic careers, with many of them repeating themselves over and over as the paths ahead seem to be getting narrower each day. these photographers with their stale expressions are further left behind with the rapid changes that are happening. on the other hand, as we mature we have learnt to develop our own ideas about what good art is. when we see something that doesn't resonate with us, it will be difficult for us to spend even a few moments looking at it. to some extent, when we look at other people's photographic work, we inevitably are influenced by its narrative form, visual language and subject matter. these influences that we have accumulated over the years become significant burdens on our mind.
When a certain photographic form or visual style becomes merely a stereotypical exercise, this marks the end of its time as far as art is concerned. we are often told by the masters and authorities rules that we should follow, but sometimes we may indulge in the self-mockery that the act of making art, like bread making, is merely a job and none of them is superior to the other. contemporary art has gradually become a production and consumption of tastes. although Duchamp had spotted this and left art to pursue chess, his ferventness for change had always remained alive in his heart as he said: "we must learn to forget the past, to live our own lives in our own time."
Contemporary art is no longer simply about form or decoration. rather, photography is considered as a distinctive language of visual symbols.

Since the 1970s, the role of photography has been through significant changes and we have begun to emphasize the importance of conceptual ideas and critical experimentation in an artist's creative process. the increasing recognition of color photography as a legitimate artistic medium further pushed forward the experimental forces that helped to shape contemporary photography as we know it today.
The arrival of digital technology allowed anyone who wishes to take pictures to easily become a producer of photographs. as we are living at a time when the abundance of images has been exacerbated by the existence of the internet, even those experienced photographers have the tendency to indulge in photographic tradi- tions of the past. the truth is that almost every corner of the world has already been seen by a camera, so the need for photography as a medium for recording has diminished over the years. in this era, artists should no longer be producers of images in the traditional sense; they should also play the roles of information processor and creator of thoughts.
The british writer peter wollen said that "for photography to be an art involves reformulating notions of art, rejecting both material and formal purism and also the separation of art from commerce as distinct semiotic practices that never interlock."
As a curator, i am acutely aware that when we demand photogra- phers to forget the past and allow their creativity to show through, we first have to clear up our mind before searching for those works that truly speak about this moment of time.
Without doubt, the search for those intriguing visual experience and thoughtful expressions through photography is an interesting task on its own. How much do we know about contemporary pho- tography from places like northern europe, South america and Hong Kong? where were all those photos taken by amateurs in the 1980s china? How would professional photographers go about taking pictures of their own children? where do the clothes that we are wearing come from? what is our relationship with nature? How did those pictures taken by a nanny from new york city stay unnoticed until now? this year we try to address these questions and share the answers with our audience.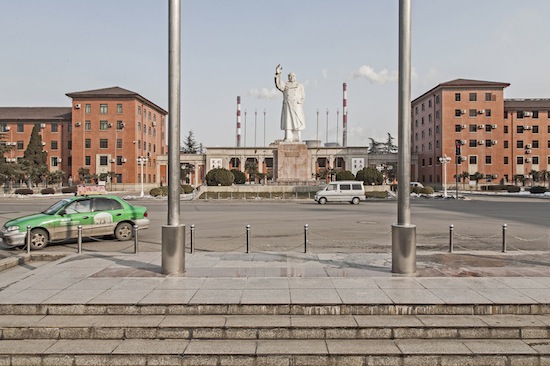 The Sun Still Rises Jan, 2008 Luoyang city © Cheng Wenjun
EXHIBITIONS
1.theme exhibitions (curators: Duan Yuting and Beate Cegielska)
Soren Dahlgaard, Dough portraits
Adam Jeppesen, Flatlands camp project
Lotte Floe christensen, View towers
Ren Hang , Ren Hang
Li Zhi, the Moon
Li chaohui, Specimen
Zhang xiangou, the Same world; the Same numbers
Meng Jin / Fang er, love Hotels
Wang ningde, eight new works
Ge pei, Don't look at Me
Chen xiaofeng, placing plants
Fu weixin, chinese television
Shao wenhuan, green of Mildew
Doreen chan , jiù shì shuo / Hey / hai6 aa1
2.Solo Exhibitions
Pieter van den Boogert, what we wear
Lea Habourdin, notes sur l'attraction
Patrick gries, in/Visibility
Andreas Muller-pohle, Hong Kong waters
Andreas Meichsner, alles in ordnung
Jan Smith, pripyat & Fukushima
Tatjana loh, My cousin from america
Wang Qing, links
Ni liang, tai lake
Tang Haowu, landscape of Soul
Cheng wenjun, the Sun also rises ao guoxing, the ode of Happiness
Mu Ge, ash
Bao Jianjun, catalog of appetite
Jiang Jian / rubinstein, conversation across time and Space
Ning Kai, encyclopedia
Li yidi, Smells like teen Spirit
Wu Qi, rubik's cube
Zhu xianmin, pearl river Delta
Wang yuwen, those Snow in northeastern china
Zheng chuan, alienation
Cen Qianheng, Still love you after all these
Liu xiaofang, i remember
Meng Qiuyu, xiaozhou Village
He wei, Microcosm
Zhang Hongtao, the relics
Huang Jing, planned coincidences
Jiang Zhongxia, Deviation
You wenhu, growth
Luo Mingyi, the Moved 420 Du Zi, Scar
Li Jie, Drama is non-drama
Zhang Miao, isolation belt
Xian yunqiang, Sincere
Wei bi, Meng xi
Sun yanchu, lose Soul
Tang Zhijie, tussock
Shan Feiming, Silent Distance
Wang Yaming, September
Zhao gang, My university
Wang Weiyi, Moment
Deng chengfang, left
3.Special exhibition
1. "photography from Denmark" curated by Beate Cegielska
Carina Zunino, curtain Falls
Ditte Haarlov Johnsen, teenage Mothers
Pernille Koldbech Fich, black
Susanne wellm, composite
Torben Eskerod, Campo Verano
2. "photography from South america" curated by Elda Harrington & Eder Chiodetto
Alejandro Almaraz, places where i've never been
Gonzalo Gutierrez, constructions
Sheila oliveira, Dores da alma
Carolina Krieger, o espelho do avesso
Mariana tassinari, paisagem inexistente
3. "up-and-coming South Korean photographers" curated by Chun Kyungwoo
Chankyu Kim, Falling
Hyunwoo Jung, behind
Jihyun Jung, Demolition Site
Taejoong Kim, Solitas
Youngdon Jung, ants
Youngjin Yoo, nowhere
4. "photography from Singapore" curated by Gwen Lee
Ang Song nian, towards a new interior
Joel yuen, untitled (remembrance)
Zhao renhui, the glacier Study group
5. "beijing Silvermine" curated by Thomas Sauvin
6. "photographers and their children" curated by Zhang Xiangou & Wang Xinwei
An ge / Zhang xinmin / He yanguang / bao Kun / Zhang xiao / wang xinwei / wang Jiang / yang Feiduo / chen xiaobo / Qiu / Sun yanchu / wang Qingsong / long Qiqi / lang xuefeng /

7. "yuenyeung, contemporary Hong Kong photography" curated by Chun Wai
He Zhanzhao, winterreise
Liang yucong, blitz
Liu wei, 18 Folgate Street liu Zhicong, landscaping artifacts
Wu Hanxi, border
Wu Qihao, repaired images
Yang Deming, the Flower Show
8. "poverty" curated by Duan yuting :
Ouyang xingkai, renmin road
Chun wai, cubicle life
Simon wheatley, Don't call Me urban!
9. "lianzhou - lianzhou, photography workshop" curated by Duan yuting & Simon wheatley
li Dong / li Qiang / Su xin / Sun ning / Sun yiye / xia Zunwei / luo rihui / cai Hui / liu yuan / chen Jingwen / Kay yang
10. "liu yuan – life in lianzhou" curated by Duan yuting
11. "chinese group pictures" curated by chen xiaobo
12. "Shangjuanzu again" curated by Duan yuting & wang Zheng 13. "Vivian Maier exhibition" curated by Duan yuting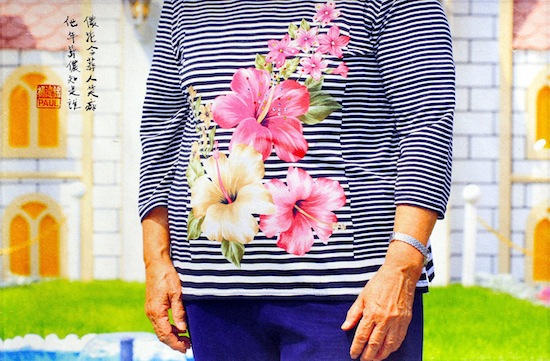 Flower Show 2010 © Paul Yeung (Hang Kong)
Curatorial team :
Director and Curator : Duan yuting
Duan yuting has been dedicating herself to promoting chinese contemporary photography for many years. in the early days she worked as a writer of the column "interview with photographer" and an editor for people's photography. after that she became a photo editor and later the chief director of photography for new express newspaper under yangcheng evening news group. in 2000, she compiled a book titled chinese Story, a significant pu- blication reflecting the living status of all walks of life in china in the 20th century. From 2001 to 2003, she took a 3-year Master course as a member chosen by world press photo. in 2005, she cofounded lianzhou international photo Festival and in the same year was chosen as the top 10 most important people of chinese photography. From 2006 to 2009, she was a guest jury member for FotobilD festival in berlin, germany. in January of 2007, she served as a curator of chinese artists at the paris photo biennale and later in the same year as a reviewer for rhubarb-rhubarb festival in birmingham, uK. in april of 2008, she was invited to be a jury member for the first Salonika photo biennale in greece. in May of 2009, she served as a reviewer for china photography awards. in July of 2010, she was a jury member for photography talent award in France. Since 2011, she has been a nominator for prix pictet photography prize. in 2012, she was one of the curators for Moscow photo biennale. She has also been a nominator for the Hasselblad award since 2012. She will also be one of the portfolio reviewers at FotoFest 2014 biennial.

Academic chair : Zhu Dake
Zhu Dake is a chinese scholar, cultural critic and essayist. He was educated in the department of chinese language of east china normal university and then was awarded a phD in university of technology, Sydney in australia. He has also been a visiting scho- lar at the university of Sydney.
rising to prominence in the mid-1980s, Zhu was an important spokesman of the avant-garde culture. He is considered adept in expressing his rational knowledge and determination toward the maintenance and development of the current culture with his ad- vanced and sharp thoughts as well as his unique style of language. He was listed in «50 top chinese influencing the world's Future» by the weekly magazine phoenix life.with his progressive thin- king, harsh criticism of social injustice and deep understanding of the chinese culture, Zhu continues to have a tremendous influence on modern chinese culture. His criticism is often coined as "Zhu words" by his followers, a metaphoric style of writing intertwined with both rationality and sensibility. His representative works in- clude «the burning papañca», «escapee's Dossiers»,»the Festival of liumang» and «review of the 21st century chinese culture».

Beate Cegielska (Denmark)
Director of galleri image, Denmark. Since 1990 beate cegielska has curated numerous group and solo exhibitions by Danish and international artists and organized exhibitions in europe, South Korea, china and india. galleri image is a non-commercial exhi- bition space aiming at spreading knowledge of high quality photo- based art by showing Danish as well as international art photo- graphy and video art. Founded in aarhus (Denmark) in 1977, the gallery is the oldest non-profit exhibition space for photographic art in Scandinavia. in fact, for many years it was the only photo art gallery in Denmark. Some of the exhibitions that beate has curated in the past include "new adventures: contemporary Da- nish photography & Video", 2006; "interferences: contemporary Swiss photography", 2004 and "From china - contemporary art photography", 2003.

Elda Harrington (argentina)
Director, encuentros abiertos, buenos aires, argentina. elda Har- rington has been the Director of encuentros abiertos (argentine's photofestival) since 1989 and the director of the argentine School of photography for the last 25 years. She is also the president of luz austral Foundation, which is dedicated to promoting photogra- phy in argentina. Ms. Harrington is an international curator and an independent photographer. She had been advisor of Foreign office Ministry and of Ministry of culture of buenos aires city.

Eder chiodetto (brazil)
eder chiodetto [São paulo, 1965] received his Master's degree in communication at the School of communication and arts, univer- sity of São paulo. He was professor of photojournalism and Docu- mental photography in the bachelor of photography at Methodist university of São paulo. as an independent curator, he held since 2004 more than 60 exhibitions in brazil and abroad.
In 2010 he founded his groups of Study and creation in photogra- phy, focusing on the development of original work. today, more than 60 photographers participate in weekly groups. chiodetto is constantly invited to give lectures and take readings of portfolio in international events, such as paris photo, pHotoespaña, world photography organization (london) and photographic bogota. He has also been a nominator to important international awards such as prix pictet, talent FoaM and world press photo Master class.
Chun Wai (Hong Kong)
Born in Hong Kong, photographer and art educator. chun pur- sued his education in sculpture and received his Diplôme national Supérieur d'expression plastique at the le Quai-École supérieure d'art de Mulhouse in France. it was also during this time that chun developed his technique as a photographer and subsequently ope- ned his own studio and captured images integrating western artis- tic techniques to portray traditional chinese aesthetics.He has re- ceived numerous press photo awards and in 2011 founded "Health in action", a ngo focusing on providing community healthcare services and education to slums in developing countries.
Chen Xiaobo
Senior editor at xinhua news agency, chen xiaobo has been a writer, curator and picture editor for over twenty years. in 2007, she finished the editing and publication of the book series "chinese photographers" consisting of ten volumes. in 2008, she curated a group show of chinese photographers at Sapporo, Japan. in 2009, she produced the "young eyes" exhibition at Dali interna- tional photography Festival in china and at ViSa pour l'image in France. in 2010, she produced the "china: From 1950s to now" exhibition at europalia international arts Festival in belgium. in 2011, she produced the "uneSco world Heritage" exhibition in paris. in 2012, she produced the "eyewitnessing: the uses of images as Historical evidence" exhibition in los angeles and new york. in 2013, she curated the "Hidden land - Shangjuanzu Villa- gers and artists' image experiment" exhibition in beijing. 2013, she curated the "Fifty years of china-France relations" exhibition in paris. in 2012, her book "why they photograph" received the top award in the art criticism category of the eighth edition of chinese literature association award.
Thomas Sauvin
Thomas Sauvin is a French photography collector and editor who lives in beijing. Since 2006 he exclusively works as a consultant for the uK-based archive of Modern conflict for whom he collects chinese work, from contemporary photography to period publica- tions to anonymous photography. a glimpse into this collection is presented in the photo book "Happy tonite" published by aMc in 2010. Sauvin has saved thousands of discarded color negatives from the landfills that have recorded lives of many chinese in the past half-century. Suavin has participated in exhibitions including photographic oddities from the aMc, caochangdi photo Festival, beijing ,2012; beijing Silvermine, Singapore international photo Festival, 2012; beijing Silvermine, ForMat photo Festival, Derby, 2013; beijing Silvermine, the Salt yard, Hong Kong, 2013.

Zhang Xiangou
Zhang xiangou is a professional photographer, curator, art critic and columnist. He has curated exhibitions including «Hidden land: Shangjuanzu Villagers and artists' image experiment» at today art Museum, 2013; china (Jinan) contemporary international photo- graphy biennial, 2012 and lianzhou Foto and lishui international photo Festival, 2011. He received the 10 best curators in china award in 2009. as a photographer, he exhibited the series «peony pavilion» at Fotobild berlin in 2008, the series «Sameness» in bei- jing in 2006 and «city of youth» at wuyi photo Festival in 2004.
Wang Xin Wei
Photographer and curator. graduated from Fudan university in 2010. nominated for the best curator award at 2013 Dali in- ternational photo Festival. received golden bird award at 2011 Dali international photo Festival. photographer of the year bronze award at 2006 lianzhou international photo Festival.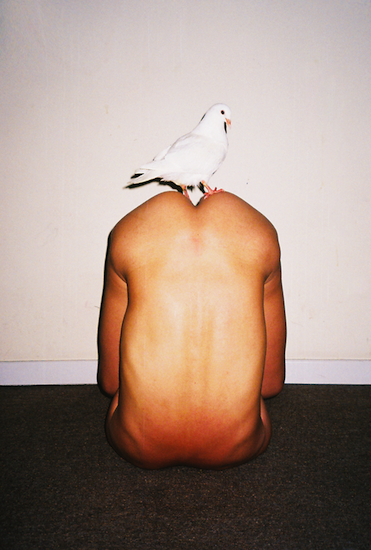 Reatures 2010 © Ren Hang
Kyungwoo Chun (South Korea)
Kyungwoo chun was born (1969) in Seoul. after his first study of photography in Korea (1992) he moved to germany, where he studied and started to work on his art projects in europe. He has become known for his poetically blurred photographic portraits in a very unconventional way of dealing with time and space. His work has been presented in numerous solo exhibitions in europe and Korea and he is the recipient of Danish art council grant DiVa(2007), art council Korea grant, grant by ivory press, uK, Hanmi photography award from the Museum of photography Seoul(2007), winner of public art competition in bremen(2008). the artist's work is represented in major museum collections inclu- ding the Museum of Fine arts, Houston, gemeentemuseum, the Hague, Museet for Fotokunst odense(DK), the Museum of photo- graphy in Seoul, national Museum of contemporary art of Korea, Museum fuer Kunst und gewerbe Hamburg among others.
Gwen Lee (Singapore)
After 6 years of experience in the museum industry, gwen lee and her partners founded 2902 gallery, a space in Singapore dedi- cated to photography. She is also the co-founder and director of the Singapore international photography Festival which is entering into 4th edition next year. She has curated various photography showcases in asia and have also been invited as jury in europe & asia. in last 2 years, she has been participating actively as a portfolio reviewer in uK, Korea, Japan and Singapore. in 2013, she is awarded a grant from the national arts council, Singapore to create a resource centre for photography in Singapore.

Li Shufeng
Director of china academy of art photographic art institute, Vice president of chinese photographers association, theoretical com- mittee and chief editor of "chinese photography" magazine. born in guyuan county, Hebei province in 1966, graduated at beijing normal university literature in 1991, worked in the State education commission and the china Federation of work, china photographers association theoretical research department in year 2000 as deputy director and director.
He has long been engaged in photographic theory and history of photography research work, published nearly one hundred ar- ticles; with a «Visual centuries - Macau photography», «look and See - photography xiaozha»; first «chinese and Foreign photogra- phers big pK» activities, He founded china international photogra- phy biennial (already held twice) and chinese photographers Sand bay international photography week . in 2006 he was awarded by the chinese photographers association «outstanding contribu- tions photographic worker»; in 2008 awarded chinese photogra- phy awards (theoretical review).
Jean Loh (France)
French national of chinese origin. graduate of Sciences-po paris. Master from Sorbonne paris-iV. photography curator, art director of beaugeste gallery in Shanghai, book editors, member of the editorial board oftrans-asia photography review, advisor on the board of lucie Foundation for lucie awards.
recent exhibitions include : Marc riboud retrospective in china (14-city tour, last stop chongqing Jiashan Museum), bruno bar- bey's china in Kodachrome (Kunming Museum), isabel Munoz' Shaolin Dancing warriors, li Zhensheng's «winds & clouds», Zhe chen's «bees». Studio Harcourt (projection) and lu guang's pollu- tion in china at yangon photo, wang lin's Stray tulips at phnom penh photo, etc. «east west See Dali» eleven photographers resi- dential project at 2013 Dali photo Festival.
Jiang Jian
Jiang Jian (Kaifeng, 1953) grew up during the cultural revolu- tion. after going through several jobs such as electrician and viola player, he started photographing since the 1980s and primarily fo- cuses his lens on the commoners of china. He is deeply concerned with the current living conditions of chinese farmers and attempts to reflect the significant social changes that china is going through from a predominantly farming country to a modern nation as the massive migration from the countryside to the expanding cities continues to occur. Since 1985, Jiang Jian has completed several large series of work including "Scenes", "Masters", "the orphan Files", "Human conditions" and "Metropolis", with exhibitions held in various galleries and museums in the united States, austra- lia and several european countries. Jiang Jian has also frequently been invited to be a curator for pingyao, lianzhou, lishui, Dali and wudangshan photo festivals. He is currently the art director at time Space Studio, a committee member of the chinese photographers association, the chairman of photography association of Henan and the deputy chairman of Henan photographers association.
Cheng Guoqin
Born in 1966, Zhengzhou, Henan province of china. graduate from Zhengzhou university with major of electrical engineering in 1987. cornell Hotel School in u.S. for executive program edu- cation in 2001. 2004, opened art gallery of xyZ with partners in the world famous art center, 798 of beijing. collaborated with numerous embassies in beijing for art and culture events, such as netherland, israel, germany and Switzerland. 2011, co-organi- zed the inauguration exhibition for basel Museum of cultures at the theme of on tHe Stage.
2011, recognized as Member of 798 art committee by 798 au- thority. 2012, representing 798 to group- curate the first chinese contemporary art exhibition in taipei, taiwan. 2013, organized the art exhibition for Dutch artist Maartje blans solo exhibition at ying gallery in 798, and anne.Sofie Hornemann at xyZ gallery in 798. 2013, curated exhibition for chinese young artists exhi- bited in art cologne 2013. 2013 co-curator with Jiang Jian for the photo exhibition of bernard Hollywood Marilyn Manron photo exhibition at 2013 Dali international photo Fair.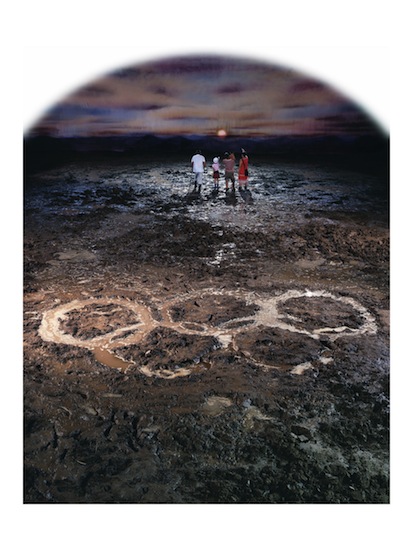 Wang Quigsong, The Glory of Hope, 240x180cm, c-print, 2007, © Courtesy of the artist Wang Quigsong
Academic Committee
acaDeMic cHair : ZHu DaKe : FaMouS ScHolar, cHineSe culture critic
Vicki goldberg (uSa): photography critic, author and photo historian
Gerry badger (uSa): photography critic, author of the books "the genius of photography: How photography Has changed our lives" and "the pleasure of good photographs", winner of the 2011 icp infinity award
Leo rubinfien (uSa): curator, photography critic and photographer
Beate Cegielska (Denmark): Head/curator at galleri image
Christian Caujolle (France): independent photography curator and writer, founder of Vu agency
Robert Pledge (uSa): president & editorial Director of contact press images
Susan Kismaric (uSa): Former photography curator at Museum of Modern art
Charles Traub (uSa): chair, MFa photography, Video and related Media Dept. School of Visual arts
Emmanuelle de l'Ecotais (France): curator at Museum of Modern art of the city of paris
Joshua Chuang (uSa): assistant curator of photographs, yale university art gallery
Kristine Kern (Denmark): Director of Fotografisk center, copenhagen
Andreas Müller-Pohle (germany): publisher, editor and photographer
Bao Kun: Deputy Director of china photographers association, photo critic and curator
Gu Zheng: professor of the School of Journalism at Fudan university, photography critic and curator
Yang Xiaoyan: Deputy Director of the School of communication and Design at Sun yat-Sen university
Chen Weixin: professor of the School of international communication at communication university of china
Wang Huangsheng: Director of the Museum of art at china central academy of Fine arts
Luo Yiping: Director of guangdong Museum of art, professor at the School of communication and Design at Sun yat-Sen university
Guo Lixin: taiwanese scholar, associate professor at national chengchi university (taiwan)
Li Mei: Deputy Director of china photographers association, photo critic and curator
Li Shufeng: Director of the institute of arts at the academy of arts of china
Fei Dawei: art critic and curator
Deng Qiyao: Deputy Director of the School of communication and Design at Sun yat-Sen university
Gao Shiming: Deputy Director of the School of art Humanity at china academy of Fine arts
Wen Danqing: chief editor of chinese photography Magazine
Hu wugong: photography critic, chairman of Shaanxi photographers association
Wang Nanming: art critic and curator
Qiu Zhijie: curator, artist, associate professor of comprehensive arts Department at china academy of arts
Bao Dong: art critic and curator
An Ge: curator, former press photographer at the guangdong branch of china news agency
Miao Xaochun: chair of the Department of photography at china central academy of Fine arts
Jiao Jian: chair of the Department of photography at china academy of art
Fan Lin: professor of art History at guangzhou academy of Fine arts, art critic
Feng yuan: Director of the School of communication and Design at Sun yat-Sen university
Duan Yuting: photography critic, curator and Director of lianzhou Foto