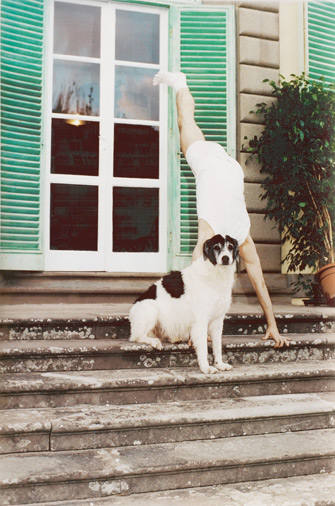 Ventes du 5/12/2009 au 5/12/2009 Terminé

Kunsthaus Lempertz Neumarkt 3 . D-50667 Cologne E-mail: photo@lempertz.com Website: www.lempertz.com Phone.: +49 221 925729-28 Fax: +49 221 925729-6


In keeping with Lempertz' tradition, there is a separation of the photography offer. The contemporary photography will be auctioned on 5 December in the afternoon together with contemporary art, while the 19th century and classic photography will be auctioned on 4 December at 6:00 pm. Contemporary photos up to an estimate of € 2,000 will also be sold at this time. Some highlights include Ansel Adams, Albert Renger-Patzsch, Germaine Krull, Francis Frith, Peter Keetman, Leni Riefenstahl, Heinrich Kühn, Robert Mapplethorpe, as well as - with a dedicated section of the catalogue - 71 images from the years 1903-1917 from the artist's magazine "Camera Work".Amongst the contemporary photography are highlights from Hiroshi Sugimoto, Bernd und Hilla Becher, Wolfgang Tillmans, Boris Becker, Jürgen Klauke and Marie-Jo Lafontaine.


Classic Photography (Dec. 04, 2009)
Ansel Adams is represented prominently with two photographs. His vintage "Monolith, The face of Half Dome, Yosemite National Park, California" from 1927, is taxed at € 10/15,000 (lot 150) while the later printed "Frozen Lake and Cliffs, Sierra Nevada, California" from 1932 has an estimate of € 9/12,000 (lot 149). "Detached Windows and Towers, Elgin Cathedral" is an early, large-scale, rare albumin print by Francis Frith from 1856 (lot 6, € 5,000). "Reigen", a work by Leni Riefenstahl and Willy Zielke from 1937 (Lot 141), is estimated at 5/6,000. From the vintage prints on offer, Albert Renger-Patzsch's "Netze" from 1930, as well as "Kranke Äffchen" from the 1920s (Lots 126/127, 4/6,000 and 7,500) are worth noting. By Germaine Krull we have an important portfolio (Kara-Mappe), estimated at 8/12,000, featuring six images from the years 1922-24 (Lot 103).

With very beautiful, partly large format gelatin silver prints, some of the most important motifs by Peter Keetman are represented. The "BMW-Kotflügel" of the legendary V8 are estimated at 4,200 and the "Schraubenpumpe" at 3,500 (Lots 182 ff.). Two bromoil transfer prints by Heinrich Kühn are on offer: "Wanderer unter Zweigen", around 1914 is estimated at 5/6,000, while "Agnes von Birgitz", portrayed around 1930, is at 3,000 (Lots 93/94). Three 1987 Robert Mapplethorpe works are offered: large-scale photogravures with flowers. "Hyacinth" and "Orchid" are taxed at € 14,000, "Irises" have an estimate of € 12,000 (lots 241-243).

Of important note is the collection of over 70 selected photogravures from 1903 - 1917 issues of "Camera Work", listed in a separate section of the catalogue. Particular mention deserve the works of Alfred Stieglitz of 14 New York motifs, the complete issue no. 33 with 15 photogravures by Heinrich Kühn (lot 61, € 4,400), and the famous New York photographs by Paul Strand (lots 83 ff.). These offer is taxed between € 300 and € 4,400 (Lot 19 - 90).

Contemporary Photography at auction during the Contemporary Art Auction (Dec. 05, 2009)
The classics among contemporary photo artists, Bernd and Hilla Becher, are represented by two gelatine silver prints of the chemical factory in Wesseling near Cologne (lot 321, € 15/20,000). Hiroshi Sugimoto's typically soft-lens technique shows the "E.U.R. Museo della Civiltà Romana" from 1988, ex. 1 of 25 (lot 624, € 13/15,000). Wolfgang Tillmans "Michael & Otto" is a digital inkjet print dated 1988 (lot 650, € 10/12,000). "Laboe" by Boris Becker in large-scale shows the monumental interior of the Marine Memorial on the Baltic Sea near Kiel (lot 320, € 5/6,000). Jürgen Klauke is present with "Sehnsuchtsbefall" from the series "Disaströses Ich" from 1996/97 (Lot 481, € 8/10.000). 1988 is the date of Marie-Jo Lafontaines photographic work in four parts: "Homage à Lotte Jacobi - Die Schönheit kein Zufall" (lot 482, € 12/15,000).