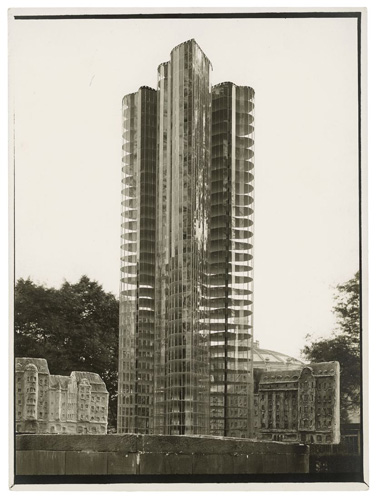 Curt Rehbein
Ventes du 4/6/2009 au 4/6/2009 Terminé

Villa Grisebach Auktionen Fasanenstraße 25 10719 Berlin Allemagne


On 4th June Villa Grisebach Auktionen, Berlin will start off the spring auctions with the sale of Modern and Contemporary photography. Among the 190 lots for sale, are a convolute of around two dozens photographs and two original glass negatives illustrating the work of architect Ludwig Mies van der Rohe. The top lots in this segment include Curt Rehbein's vintage prints from 1922 depicting Mies van der Rohe's famous model for a glass skyscraper (estimate of 10,000-15,000 EUR) as well as the architect's project for the "Tower house at Friedrichstraße" (estimate of 5,000-10,000 EUR). The auction will include further photographs from Mies' early period, such as the Weissenhof settlement in Stuttgart of 1927, and also his pavilion for the World Fair in Barcelona (1929) in eleven pictures of exceptional quality by the agency "Berliner Bildbericht". All the works are from the bequest of Eduard Ludwig (1906-1960), an architect and former Bauhaus student, who worked as an assistant to Mies van der Rohe.

On the occasion of the ninetieth anniversary of the founding of the Bauhaus, Grisebach offers a collection of selected photographic works by various Bauhaus artists. Featured here are namely the experimental portraits by Kurt Kranz (estimate of 8,000-10,000 EUR) and Hajo Rose (estimate of 3,500-4,000 EUR), Werner David Feist's "electronic still life" (estimate of 4,000-6,000 EUR) as well as images showing the Bauhaus in Dessau during its construction taken by Lucia Moholy (estimate of 1,800-2,200 EUR). Additional architectural photographic highlights in this segment are by Kurt Kranz, Bernhard Pankok, the Atelier de Sandalo, and Iwao Yamawaki.


Within the segment of Modern photography, Grisebach presents a few exceptional and rare prints such as Martin Munkácsi's photograph from circa 1932 depicting himself in one of the windows of the Zeppelin LZ 127 (estimate of 18,000-24,000 EUR), Erwin Blumenfeld's inimitably personal view of the cabaret artist Valeska Gert (estimate of 8,000-10,000 EUR), two unique and original photograms by Christian Schad of the 1960s (estimated each with 5,000-7,000 EUR), a vintage print from Herbert List's metaphysical-surreal "The Spirit of Lycabettos" (estimate of 5,000-7,000 EUR), and an early print of the famous 1953 photograph of Marilyn Monroe by Alfred Eisenstaedt (estimate of 8,000-10,000 EUR)

Further highlights featured in Grisebach's photography auction are amongst others the rare portfolio "Portraits" by American photographer Arnold Newman estimated with 15,000-20,000 EUR, Irving Penn's "New Guinea Man and Sitting Woman" (estimate of 10,000-15,000 EUR), and a version of the Odalisque by Horst P. Horst in a later platinum-palladium print. Contemporary works presented in the sale include a diptych entitled "Portrait of a Girl 1+2" by Loretta Lux (estimate of 12,000-15,000 EUR) as well as photographs by artists such as Roger Ballen, Elger Esser, Axel Hütte, Helmut Newton, Bettina Rheims, Sebastiao Salgado, Frank Thiel.